When choosing a location for their special day, Nerissa and Brian knew they wanted to immerse themselves in the breathtaking beauty of Dartmoor. After exploring various options, they instantly fell in love with a charming Two Bridges Hotel Wedding.
After deciding to have a spring wedding, they set out to find a photographer who could capture the essence of Dartmoor's enchantment. After stumbling upon Mike Lister Photography and being drawn to his relaxed style and impressive portfolio, they wasted no time in reaching out. A meeting was arranged, allowing them to get to know each other better and discuss the details of their wedding.
As the big day approached, anticipation grew. The journey to the venue took them across Dartmoor, with a scenic drive that even the dullest of days couldn't diminish.
Upon arriving at the Two Bridges Hotel, clouds filled the sky, teasing the scent of rain in the air. Thankfully, the weather held up, and I, as their dedicated photographer, arrived early to soak in the atmosphere. I took the opportunity to explore the venue, capturing glimpses of the preparations and connecting with the fabulous wedding coordinator, Anna. Finally, it was time to meet Nerissa and Brian, marking the beginning of an extraordinary day.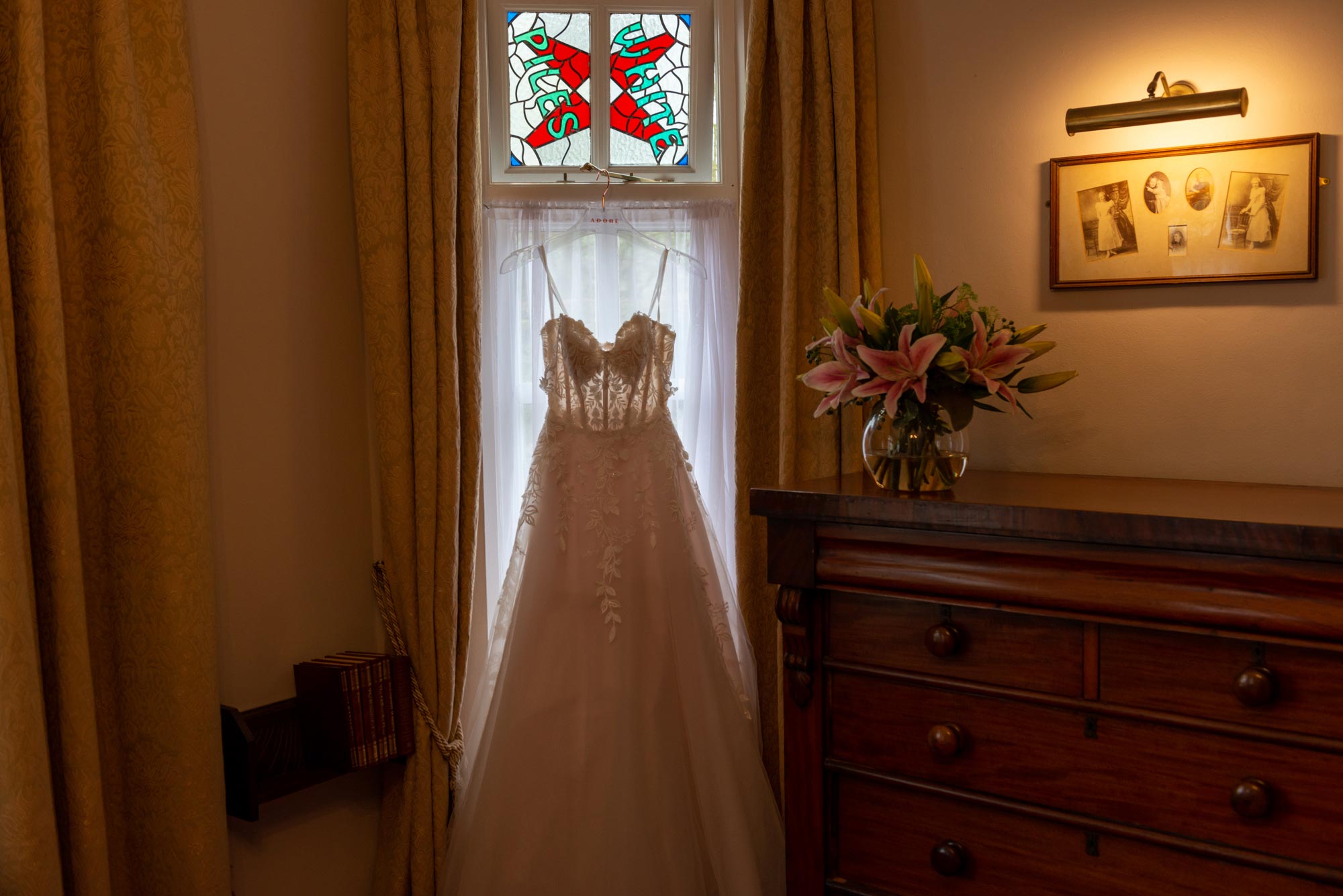 Adding their personal touch to the wedding, Brian and Nerissa dedicated an evening to crafting their own wedding favours. This endearing gesture involved making delicious fudge. Little did anyone know that Brian possessed some impressive culinary skills, as he also took charge of creating their wedding cake. Spoiling their guests with an array of choices, he prepared a mouthwatering lemon drizzle, walnut and chocolate cake. Not forgetting their vegan and gluten-free guests, he also whipped up a delightful cake to suit their dietary preferences. Move over, Paul Hollywood. There's a potential Bake Off champion in our midst!
Fortune smiled upon us, and despite the looming presence of dark clouds, the rain held off. We decided to seize the opportunity and ventured outside for the confetti shot and group photos. To ensure a smooth and efficient process, I always ask couples for a list of desired pictures with corresponding names. This way, we can organize the shoot swiftly, considering the comfort of guests who might be braving the elements.
As the wedding breakfast commenced, the clouds finally surrendered, and raindrops began to fall. Thankfully, we had already captured all the precious outdoor moments we needed.
During the dinner, the playful spirit of the occasion took hold, and the children initiated a lively game of "pass it on." It was a joy to witness the reactions as messages were whispered from one person to another, eagerly awaiting the final recipient. The game served as a delightful interlude between courses, keeping everyone entertained
Brian had an extra surprise up his sleeve for Nerissa—a personalized apron for the kitchen adorned with their wedding date. It was a heartfelt gesture that brought smiles and warmth to their hearts.
No wedding would be complete without dancing, and Terry and Brian's celebration was no exception. The best men took on the role of DJs, selecting the perfect songs to keep the energy soaring. The crowd gathered in a circle, and Brian even engaged in a friendly dance-off with one of his best men before Nerissa joined him. Surrounded by their closest friends, they all joyously danced to the vibrant rhythm of Zorba's Dance, creating a memorable and exhilarating finale.
Capturing Brian and Nerissa's extraordinary day on Dartmoor was an absolute delight. Reliving the moments as I edited their photos and wrote this account fills me with warm nostalgia.
Suppliers: